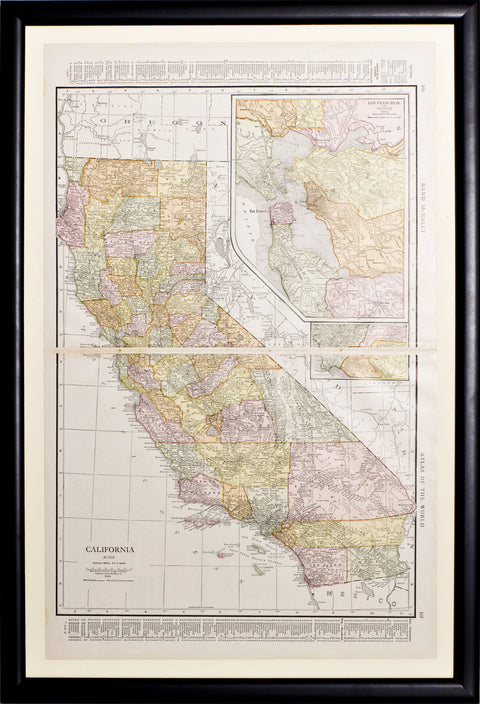 Map of California with insets of San Francisco Bay Region & Los Angeles Region, 1917
Inquiry
Pickup currently unavailable
Rand McNally
Map of California with insets of San Francisco Bay Region & Los Angeles Region, 1917
From: Rand McNally's International Atlas of the World
Chicago/New York: 1917
Hand-colored lithograph
Sheet Dimensions: 22.25 x 14 in.
Frame Dimensions: 25.5 x 17.25 in.
A vibrant map of California highlighting the Los Angeles region, including Orange, San Bernadino and Riverside. Along with an inset of the San Francisco Bay and a legend of principal cities in California.
The Renowned Rand McNally was founded in 1868 in Chicago, Illinois by William Rand and Andrew McNally after working for the Chicago Tribune and eventually buying out their printing business. Their initial focus was printing tickets and timetables for the blooming railroad industry. They grew into creating railroad guides and then moved into publishing educational maps in 1880 with its first line of maps, globes, and geography textbooks. They have been recognized for their world atlases, becoming one of the leading American Atlas companies of the 19th and 20th century.