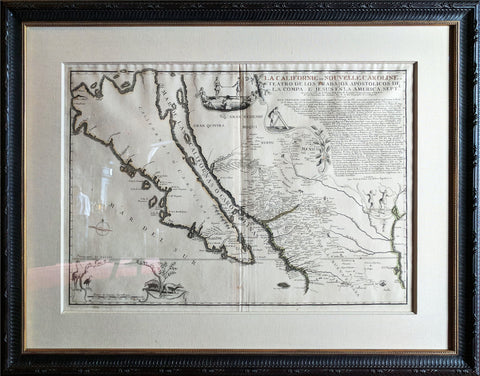 de Fer. La Californie ou Nouvelle Caroline. 1720
Inquiry
Pickup currently unavailable
Nicholas de Fer
La Californie ou Nouvelle Caroline, Teatro De Los Trabajos Apostolicos De La Compa. E. Jesus En La America Septe…
Paris, 1720
The largest and most important separately-published 18th century map of California
The finest depiction of the island of California ever produced!One of the most interesting cartographic myths of the European exploration of the Americas is depicted in this magnificent map by Nicolas de Fer which shows the North American west coast with California as a large island. This notable misconception impacted the accuracy of mapmaking for over a century, until its acceptance of California as part of the mainland was established in the mid eighteenth century.
Between the years 1500 and 1747, confusion ensued over whether or not California, previously documented in medieval folklore as a mysterious island filled with an abundance of gold, was thought to be part of a series of various mythical islands that filled an unknown ocean. The "island theory" was perpetuated by Spanish explorers including Juan de la Fuca, who suggested in reports published in 1592, that the large opening identifying the mouth of Mexico's Baja peninsula joined a great bay in the northern part of the continent.
In 1622, Henry Briggs, produced a map based on these reports and the travels of Samuel Purchas. Published in London, Briggs' map was accompanied by an article which referred to California as a large island off the coast of Newe Spaine. This "island" appeared to have a rough and rocky coastline complete with smaller islands off the shore. Brigg's map became the standard outline for depicting California's insularity and was copied and incorporated in the maps of influential publishers and geographers throughout Europe.
This unique and exquisite map was published in Paris by Nicolas de Fer, whom was one of the most prolific and influential French cartographers of the late 17th and early 18th century. De Fer was the youngest son of the well established Parisian print and mapseller, Antoine de Fer, who passed on his business to his sons. Nicolas de Fer would eventually go on to become the Royal cartographer to the Bourbon Kings of France, most notably Louis XV, under whom he enjoyed a long career as an important mapmaker.
De Fer's La Californie ou Nouvelle Caroline… is one of the largest and most important depictions of the California island theory. Also considered one of the last great maps to show California as an island, the engraving illustrates over 300 towns and villages including what is known today as New Mexico and southern Arizona. Below the title is a lengthy engraved text that gives the early history of California up to 1695. It is an invaluable record of late 17th century missions and Indian villages in the western part of the New World.