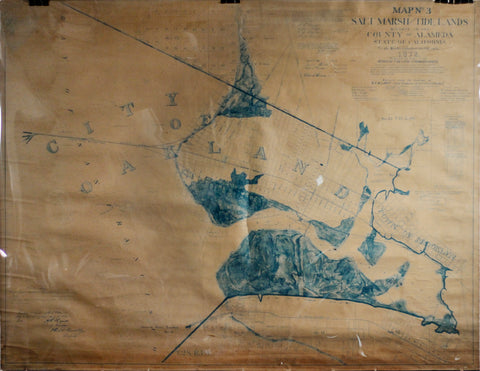 Map No. 3 of Salt Marsh and Tidelands Situate in the County of Alameda, State of California. Scale 10chs. (660 feet) to the inch. 1872. Prepared by Order of the Board of Tide Land Commissioners
Inquiry
Pickup currently unavailable
F. C. Hafenrichter
Salt Marsh and Tidelands map of Alameda County
Commercial map in blueprint and sepia, with original rails
Paper Size: 39½" x 50"
Excellent working map of the Oakland drainage basin, San Antonio creek estuary and Lake Merit watershed, all prior to manipulation and altering through army corp or private industry.
Created under the supervision of George Allardt, Salt Marsh and Tide lands commissioner and civil engineer, former
Alameda
county surveyor (1855-1869). A shoreline map, proposing the infill of lands effected by tidal motion. In all cases, even the furthest inland wetlands effected by the tides were subject to these regulations and restrictions on development, controlled through the process of survey, subdivision and sales to the general public, only by the commission, only through public announcement and subsequent auction sale to the highest qualified bidder. These restrictions promoted the separation of Lake Merit watershed from the tidally influenced estuary, to allow more unfettered inland and uphill development with fewer limitations, then as imposed by tide land rules. Information is baseline and of considerable importance today, in regards to factual rehabilitation of these lost watersheds.
This is an original, commercially printed, operational, cadastral and riparian map with original rails used by American Title and trust in the Oakland Tribune Newspaper (office) Building (1903-1975) in support of surveys and maps for land title verification, under supervision of WF Boardman and his son, Clifford Boardman CE, in the capacity of land survey experts, with WF being the former
Alameda
County Surveyor (1869-1903), after Allardt.