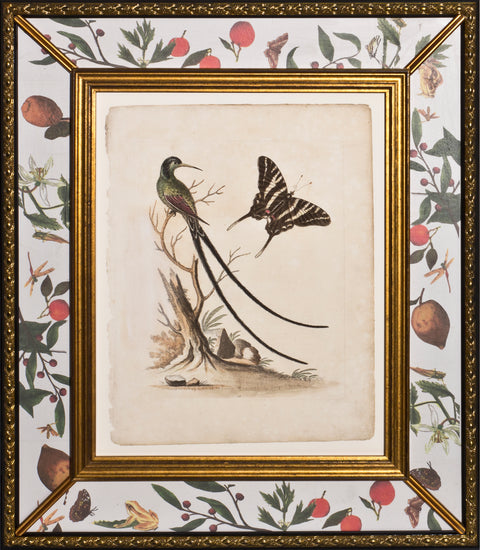 The Long-tailed Hummingbird
Inquiry
Pickup currently unavailable
George Edwards (1694 - 1773)
The Long-tailed Hummingbird; Plate 34
From: A Natural History of Uncommon Birds and of some Other Rare and Undescribed Animals, Quadrupeds, Fishes, Reptiles, Insects, & c.,
London: T. Rickaby for George Edwards., 1746
Hand-colored copperplate engravings
Sheet Dimension: 20 x 17.25"
Frame Dimension: 25 x 19"
The English naturalist and ornithologist George Edwards (1694-1773), is remembered as the "Father of British Ornithology" for his dedication in the study and depiction of birds. Edwards was born in Essex, England and as a young man traveled throughout Northern Europe, collecting samples, studying natural history and making colored drawings of animals and birds. In 1743 he published the first volume of his Natural History of Uncommon Birds. His marvelous publication was
a renowned reference text in mid-18th century British naturalist circles. He continued publishing subsequent volumes until 1764. His works contain engravings and descriptions from more than 600 natural history subjects which had not previously been recorded.
Edwards' bird prints are carefully colored and detailed with a naturalistic quality showing his great dedication to accuracy as well as desire to produce a beautiful image.