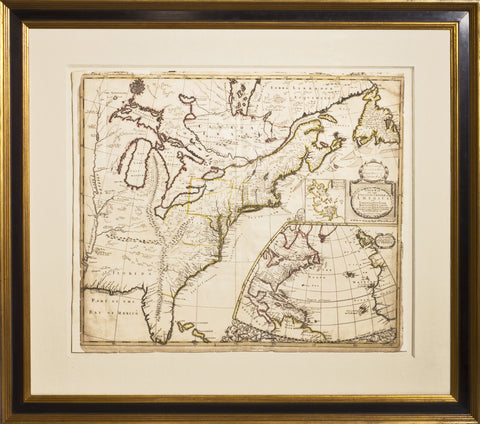 A New Map of the English Empire in America.
Inquiry
Pickup currently unavailable
John Senex (1678-1740)
A New Map of the English Empire in America
London, 1719
Copperplate engraving with outline color
Sheet Dimensions: 20.25 x 24.25 in.
Framed Dimensions: 31 x 34.75 in.
John Senex was a prominent surveyor, engraver, bookseller and publisher of maps, atlases and globes in London. Born in 1678, John Senex started his career with an apprenticeship to the London bookseller Robert Clavell in 1695. In 1702, Senex began his own map publishing enterprise. His noted works include the English Atlas (1714) and New General Atlas (1721). Senex also had a fascination with globes, and was the first to develop a celestial globe in 1706. Additionally, Senex was the official Geographer to Queen Anne, and was elected to the Royal Society in 1728. He died in 1740, and his business was continued by his wife, Mary until 1755.
"A New Map of the English Empire in America," a highly detailed map of the English colonies in North America, is a second state of a map first published by Robert Morden in 1695. The title cartouche states the map was revsied by Senex in 1719, with royal arms above the cartouche inscribed with a dedication to Hewer, Edgy Hewer of Clapham Esq.
This map gives us a fascinating glance of the known knowledge of the geography and topography, as well as the current settlements, of the United States and Canada in the late 17th and early 18th centuries by the English. The detailed depictions of the cities and towns along the eastern coast include Boston, Cape Cod, Long Island, Philadelphia, Jamestown, Norfolk, Charlestown and Cape Canaveral. Topographical and geographical information, such as the Chesapeake Bay (Chefapeak
Bay), Hudson's Bay (Hudsons Bay), the Appalachian Mountians (Apalitea), the Great Lakes and the Mississippi River (R. Mitchispi or Rio Grande) are depicted. The site of Fort Crevecoeur, a French
fort destroyed by the Iroquois in 1680 is shown along the northern Illinois River. Interestingly, a mystery mountain range, scanning from Florida in the South, to Michigan in the north, ending with "… a Plaine like a Terras Walk about 200 miles in length," is depicted. Also included are two
inset maps, one of Boston Harbor, the other a map of the Atlantic Ocean titled "The General Map of the Coasts and Isles of Europe, Africa and America."
This rare and historically important map would be a fine addition into any collection.