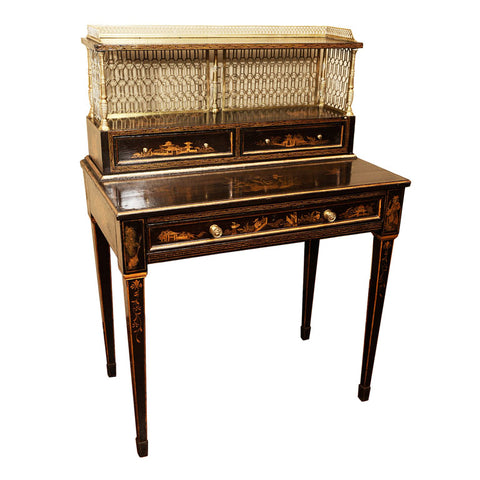 A Regency Brass-Mounted Japanned and Parcel-Gilt Bonheur du Jour
Inquiry
Pickup currently unavailable
A Regency Brass-Mounted Japanned and Parcel-Gilt Bonheur du Jour
Circa 1815
The apron drawer opening to a fitted writing slide and compartments; one drawer with a
chalked number A9473, another drawer marked 13946 and 5534
45 x 33 x 20 inches
Restoration to japanned decoration
Provenance: Mrs. Nancy Lancaster Christie's London, November 21, 1974, lot 49 Stair& Co., London and New York Christie's London, June 23, lot 67
Sotheby's New York, June 21, 1984, lot 207 The Kluge Collection, Albemarle House,
Charlottesville, Virginia Published: Stair & Co, Handbook, n.d., p.14
This elegant japanned bonheur du jour is in the manner of the London cabinet-maker John McLean & Son.The firm is first recorded in Little Newport, Leicester Square, London, and by 1790 they had moved to Upper Marylebone Street where they remained until the closure of the firm in 1825. Simon Redburn's article "John McLean & Son", The Journal of the Furniture History Society, 1978, vol. XIV, pp. 31-37 discusses the "distinctive grilles on the superstructures of the secretaires and Bonheur du Jours (pl. 44B)...common to McLean pieces", with which the present piece is mounted. McLean worked most often in rosewood veneers, but he also sometimes "worked in other mediums", including a "black japan pier table with gilt bead panels silk in ends,
mounted in ormolu", (Redburn, op cit., p. 37.) McLean was also known to have used drawer pulls with lion mask designs, such as on the present piece.

French in origin, the form of the bonheur du jour was developed in the mid-18th century; translating to "daytime delight", it became a popular kind of lady's writing desk, meant to be easily moved from place to place. Adapted by the English as well, this form usually has a projecting lower section for writing and a setback superstructure above. This fine example is executed in delightful gilt chinoiserie on a black ground in imitation of oriental lacquer, the overall effect enhanced greatly by the intricate pierced brass  retwork grilles so distinctive to the style developed by McLean.

$32,000.