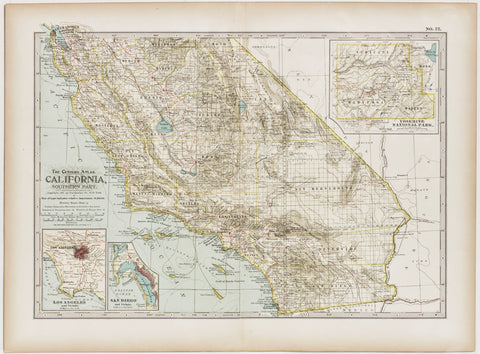 California; Southern Part with insets of Los Angeles, San Diego & Yosemite National Park (1898)
Inquiry
Pickup currently unavailable
The Century Company
California' Southern Part with insets of Los Angeles, San Diego & Yosemite National Park (1898)
From: The Century Atlas of the World.
New York: The Century Co., 1898
Original hand-colored lithograph
Paper dimensions: 17 x 12.75 in
A finely detailed map of Southern California with insets of Los Angeles, San Diego and Yosemite National Park. Including the cities of Pasadena, Santa Monica, Redondo, Coronado and the San Diego. Featuring topographical details of the San Bernadino Mountrains and Mono region. 
 The Century Company was founded in New York City in 1881, publishing periodicals and books. Century's primary publication was The Century Illustrated Monthly Magazine, which was regarded as the best general periodical of its time during the 1880s and 1890s. The Century's greatest success was its series of articles on the history of the Civil War. The "War Series" began in November 1884 and continued for more than three years.