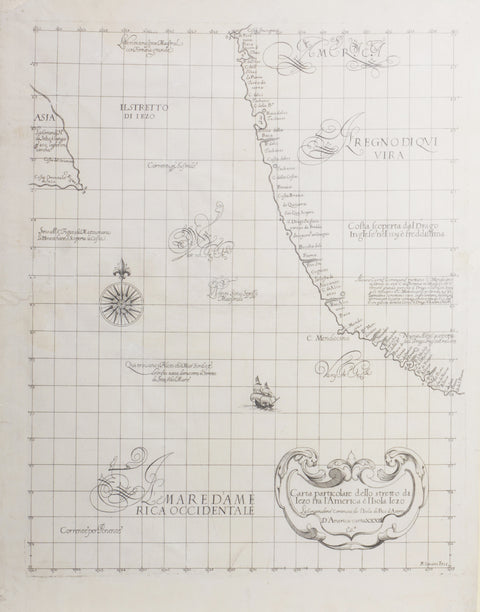 Chart of the Pacific Northwest
Inquiry
Pickup currently unavailable
Sir Robert Dudley (1574 - 1649)
Carte Particolare Della Stretto Di Iezo Fra I"America e"Isola Iezo - Chart of Pacific Northwest
From: Dell'Arcano del Mare
Florence: 1661
Copperplate Engraving
Sheet Dimension: 21 x 16 in.
This sea chart from Robert Dudley's splendid Dell' Arcano del Mare (Secrets of the Sea), is the first marine atlas to employ the Mercator projection. In using the projection developed by Mercator, Dudley improved upon the theory of navigating by the "Great Circle," the shortest distance between two points on a globe. It would be the eighteenth century before cartographers used the projection consistently, and during the great Dutch period of cartography not one atlas was produced using it.
Although Dell' Arcano del Mare was published in Italy, it is considered the first printed English nautical atlas. Dudley's monumental work was the only exception to the total dominance of sea atlas production by the Dutch for nearly a century. Arguably the most sumptuous marine atlas ever produced, it contained no less than 146 sea charts, and dozens of illustrations and working diagrams. It was superior to any previous work in that the charts illustrated the whole world, the first time any outside of Europe had been included. Dell' Arcano del Mare was also the first atlas to show the prevailing winds, currents and magnetic deviation. One of the great marine atlases of all time, the work was magnificently engraved, an encyclopedia of 17th-century knowledge regarding the seas.
Robert Dudley was one of the more colorful characters in the history of map making. He was the illegitimate son of the Earl of Leicester, and in 1605 he abducted a beautiful heiress and fl ed England. He entered the service of the Duke of Tuscany as an engineer and naval commander, and he spent the rest of his life in Italy. In 1646 in Florence he published Dell' Arcano del Mare, which besides the many beautifully calligraphic charts included detailed texts on navigation, shipbuilding and naval warfare, the whole written in Italian by Dudley himself. The atlas was twelve years in the making, and the main innovation lay in its conception of a world atlas of charts, both general ocean charts and detailed surveys, covering all the rival spheres of European do-minion: Spanish, English and Dutch. Dudley's Dell' Arcano del Mare is a monument in marine cartography, representing the culmination of his passion for the waters of the world and all that they had to offer.