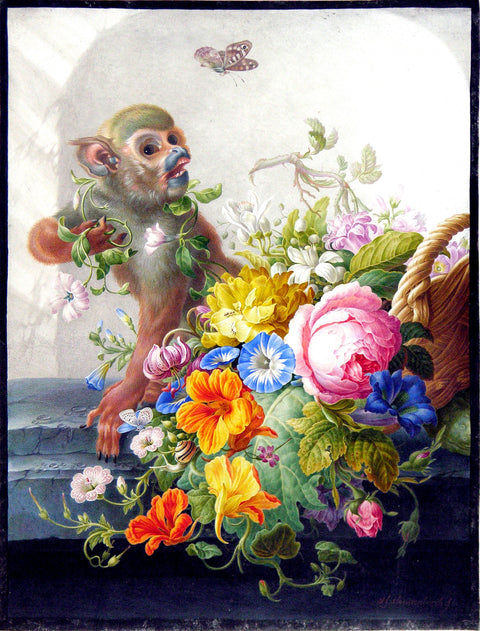 Still-Life With A Monkey And A Basket Of Flowers On A Stone Ledge
Inquiry
Pickup currently unavailable
Herman Henstenburgh (1667-1726)
Still-Life With A Monkey And A Basket Of Flowers On A Stone Ledge
Watercolor and gouache within black framing lines, on vellum
Signed Lower Right: H. Henstenburgh. fec
Provenance: Pieter van den Brande and/or Johan Pieter van den Brande, Middelburg; by descent to E.
C. Baronvan Pallandt; sold by him, Amsterdam, Mak van Waay, 26 September 1972
16 1/2 x 12 3/4 inches, 25 1/2 x 21 3/4 inches framed
The development of natural history painting paralleled progress in the field of science. Drawing played an important role in the advancement of natural history and the influence of animal and plant illustration had a direct effect upon the development of allegorical and trompe l'oeil painting.
The Dutch were at the forefront of these developments and managed to forge a remarkable synthesis between concern for scientific truth and the decorative and exotic aspects of natural history. Imaginative compositions joined flowers and birds with insects and reptiles to create fantastical juxtapositions imbued with allegorical meaning. Snakes, lizards, and frogs, had powerful symbolic connotations and were related to the theme of Medusa. Butterflies were also associated with mythology and specifically the story of Psyche and the theme of Vanities, in which the caterpillar corresponds to man, the chrysalis to death, and the butterfly to the soul after resurrection.
Herman Henstenburgh produced exemplary examples of this genre. In his remarkable paintings he breaks away from the somewhat limiting precepts of natural history painting to create a play of lines and colors that can be appreciated not simply for its decorative aspects, but also as a departure from the naturalist's strictly narrative view towards an art approaching abstraction.
Henstenburgh was a pupil of Johannes Bronckhorst, a fellow native of Hoorn in the Netherlands and according to contemporary accounts, his early works very much imitated those of his master, depicting birds and landscapes. He later broadened his repertoire to include splendid flower and fruit pieces, and occasional woodland still-lifes. For his flawless draftsmanship and vibrant colors, Henstenburgh won considerable renown even during his own lifetime.