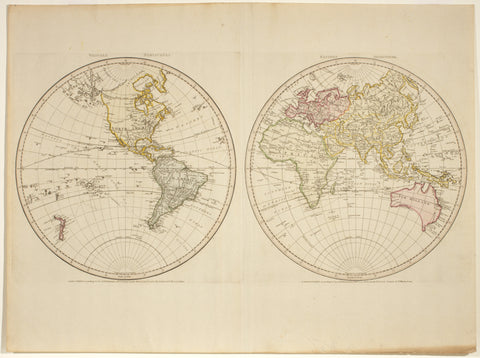 Western Hemisphere. Eastern Hemisphere
Inquiry
Pickup currently unavailable
William Faden (1750-1836)
Western Hemisphere. Eastern Hemisphere
London, Published according to Act of Parlaiment, 17 November 1773
Hand colored copper-plate engraving
Paper size: 29" x 21 ¾"
$1,700

Large format and highly detailed maps of the Eastern Hemisphere and Western Hemisphere, published by London's leading mapmaker.

The map illustrates the discoveries of Captains Cook & La Perouse along the Northwest Coast of America and throughout the Pacific, including the Sandwich Islands. The coastline of Australia (New Holland) is mostly completely, although still highly conjectural, with no indication of any land in the Arctic Regions.

There is a pencil note in the Pacific, describing a Frigate calling on Amsterdam Island and St. Pauls Island.

In the Western US, the area is dominated by a massive Quivira, but no sign of Lake Timanagos or the apocryphal rivers which would begin to appear on maps in the early 19th Century.

A nice large format pair, which would look handsome framed together as a pairing.