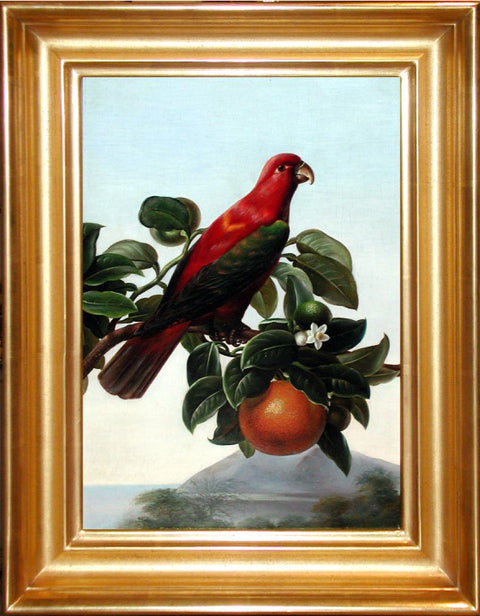 I. F. Beck "A Chattering Lory Sitting on a Branch of an Orange Tree"
Inquiry
Pickup currently unavailable
I. F. Beck
A Chattering Lory Sitting on a Branch of an Orange Tree
Oil on panel; framed size: 20 ½" x 15 ½"
Signed along branch: "I. F. BECK 1844"
$25,000.
By the beginning of the nineteenth century ornithology was almost considered a separate and specific area of scientific study. Its rise can be traced to the spiritual conflict and unrest of the seventeenth century which resulted in the flourishing of the sciences as new bodies devoted to the study of Nature were founded. In 1652, the Academia Naturæ Curiosorum, later the Academia Cæsarea Leopoldina, was established in Germany and a decade later saw the creation of the Royal Society of London. These were followed by the1666 foundation of the Académie des Sciences in
France. As interest increased, collectors gathered drawings and paintings of birds for their "cabinets of curiosity" resulting in a great demand for ornithological illustration.
However, the 1800s witnessed some of the greatest advances in this particular field. The growing democratization of the sciences resulted in a great increase in the quantity of literary material available and many of these were illustrated with studies executed by hand. European birds were not the only subjects to be observed and the remote regions of other continents also furnished zoological matter for literary works. With their world of exotic, hitherto unknown, creatures they became especially important to the study of natural history, because they stimulated observation and investigation.

I. F. Beck's striking study of the Chattering Lory is an example of this exploration of exotic ornithology. There are three species of lorius garrulous and all are listed as threatened birds in the Washington Conservation list. This spectacularly colored parrot inhabits two tiny islands named Morotai and Raou which are situated north of Halmahera island in the Moluccas, Indonesia. The artist skillfully presents an image of artistic beauty and scientific value by depicting the bird perched on an orange tree branch, with the west coast of Morotai island and Raou in the distance.

The Moluccas, otherwise known as the Spice Islands, are a group of islands located in
Eastern Indonesia, between Sulawesi and New Guinea. Volcanic in origin, the islands are lush and mountainous and were discovered by the Portuguese in 1512. During the following century, the islands reverted to Dutch control and the Dutch East India Trading Company established a trading post there. The British gained a foothold twice in the islands, but they became official Dutch colonies, once again, during the first quarter of the nineteenth century.