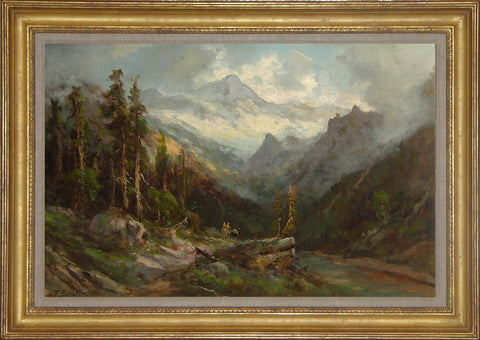 In the California Sierras
Inquiry
Pickup currently unavailable
Frederick Ferdinand Schafer (1839-1927)
In the California Sierras
Oil on canvas
Canvas size: 18" x 28"
Frame size: 23 3/4" x 33 1/2"
Signed l.l.: F. Schafer
Ca. 1880
Provenance: Collection of Edward Eberstadt & Sons.
In this oil painting Frederick Ferdinand Schafer (1839-1927) depicts a scene along the John Muir Trail, in the Southern California Sierras. The route was named for John Muir (1838-1914) one of the earliest modern preservationists. His letters, essays, and books telling of his adventures in nature, and wild life, especially in the Sierra Nevada Mountains of California, were read by millions and are still popular today. His direct activism helped to save the Yosemite Valley and other wilderness areas.

The Sierra Club, which he founded, is now one of the most important conservation organizations in the United States. The Trail starts in the Sierra Nevada mountain range of California, and runs 211 miles from the Happy Isles trailhead in Yosemite Valley south to the summit of Mt. Whitney on the border of Sequoia National Park and Inyo National Forest.

This work bears many hallmarks of Schafer's celebrated style. In his mountain, forest, and river landscapes, foreground deadwood in the form of a leaning or fallen tree, or a river snag, appears frequently.
Small figures, usually Indians but occasionally of trappers, hunters, prospectors, or even bear or deer, often appear as part of the natural landscape, providing an iconic, rather than explicit, genre touch. By their small size these figures provide the eye with a measure of, and emphasize, the large scale of the scene. Background mountains, especially foothills and intermediate ranges, may be shapes developed with only a few wide brushstrokes.

Frederick Ferdinand Schafer was a noted and talented artist of the American West. Born in Braunschweig, Germany, on August 16, 1839, he emigrated to the United States in 1876, at the age of 37. Schafer's training in Germany is unknown. His work resembles that of the Düsseldorf school and contemporary newspaper writers sometimes suggested a connection, implying that Schafer was
trained, and perhaps even a teacher, at Düsseldorf. Regardless of his training, Schafer made his name painting breathtaking scenes of American scenery. While in the United States, he created some 500
paintings of western American landscapes before his death, in Oakland, California, in 1927.

Schafer had studios in San Francisco from 1880 through 1886, and in his homes in Alameda and Oakland from 1887 until his death. He frequently spent summers sketching in Oregon, Washington, Idaho, Montana, Wyoming, Utah, British Columbia, and Alaska, and many of his paintings were inspired by the majestic scenery of these places. A member of the San Francisco Art Association for many years, Schafer regularly exhibited his paintings at the Mechanics Institute exhibitions
in that city.

Schafer's overall style is that of the nineteenth-century American realist landscape tradition, taking maximum advantage of the dramatic western American landscape and with a strong element
of naturalism -- a preference to capture the impression of an object such as a tree rather than to provide photographic detail of it. Many of Schafer's canvases have a dramatic appearance, arising from use of large areas of intense, saturated color and contrasting light, but stopping tastefully short of the melodramatic effects found in canvases of Thomas Cole, Albert Bierstadt, and Frederic Church.

Schafer's work is held in a number of premier public collections, including the Art Museum of Greater Victoria (British Columbia), the California Historical Society, the Crocker Art Museum, the Hoover Institution, the Monterey Peninsula Museum of Art, the Oakland Museum of California, the Seattle Art Museum, and the Yosemite National Park Museum. These works are splendid and
rare examples of Schafer's formidable skills.