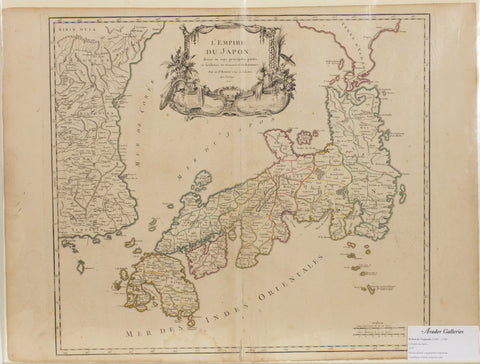 Robert de Vaugondy (1688-1766)
Inquiry
Pickup currently unavailable
Robert de Vaugondy (1688-1766)
L'Empire du Japon
1750
19.75" x 26.75" paper
Hand-colored copperplate engraving
Condition: Good, original color

The Robert de Vaugondy family of mapmakers were preeminent in the eighteenth century, a time when the French were at the forefront of cartography. Gilles Robert de Vaugondy, the author of this map, was a descendent of the family of the great seventeenth-century French cartographer Nicolas Sanson. Sanson had initiated the so-called "French school of cartography," which was unprecedented in its attention to precision and scientific detail, and which discarded much of the decorative embellishments of previous maps as being irrelevant. From Sanson's time in the second half of the seventeenth century until the latter part of the eighteenth century, with the activity of the Robert de Vaugondy family, French geographical conceptions were more influential than those of any other nation.

Gilles Robert de Vaugondy inherited the firm of his uncle, Pierre Moullart-Sanson, in 1730. He enlarged the stock of his family company when he purchased the estate of another acclaimed cartographer, Hubert Jaillot. He combined much of the inherited cartographic material with his own innovations, as well as those of the most advanced American mapmakers, to publish a series of beautifully produced atlases at mid-century. Because of the great esteem for his contributions to geographical knowledge, Gilles was honored with the title Geographer to the King in 1730.

When this map was produced by Gilles in 1750, it represented a great step forward in the mapping of Japan. To compile it, Gilles revised and corrected material from Sanson and Jaillot, and added many new place names. More significantly, he took the step of excluding the fictional island of Matsumae, so long an erroneous feature of western cartography, and delineated the Tsugaru and Shimokita peninsulas, as well as the Bay of Mutsu, with unprecedented accuracy. As a result, Robert's groundbreaking "Japon" was influential well into the 19th century.