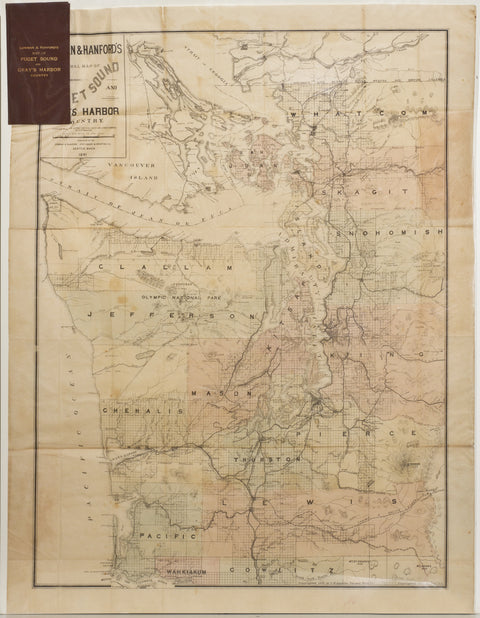 Map of Puget Sound and Grey's Harbor Country
Inquiry
Pickup currently unavailable
Lowman & Hanford 
Map of Puget Sound and Grey's Harbor Country 
Seattle: Lowman & Hanford Stationary & Printing Co. 1891
Sheet Dimension: 28 x 36 in.
Hand-colored lithograph.
This fine maps displays the Columbia River to Vancouver. It was folded into brown cloth covers 18 x 9" with "Lowman & Hanford's Map Of Puget Sound And Gray's Harbor Country" stamped in gilt. The Lowman & Hanford Stationery and Printing Company, later the Lowman & Hanford Company, was a printing company and retail stationery business operating in the Pioneer Square area of Seattle beginning around 1885.
James Lowman and Clarence Hanford were business and civic leaders in early Seattle, each with ties to Seattle's pioneer settlers. James D. Lowman (1856-1947) was born in Maryland and arrived in Seattle in 1877 at the invitation of his uncle, founding Seattle settler and sawmill owner Henry Yesler. Lowman worked as assistant wharf master on Yesler's wharf for four years, using his savings to purchase a half interest in the book store owned by W.H. Pumphrey in 1881, and buying out his partner two years later.