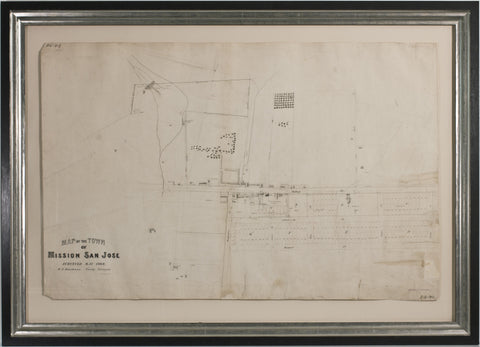 Map of the Town of Mission San Jose
Inquiry
Pickup currently unavailable
William F. Boardman (1865-1945)
Map of the Town of Mission San Jose
Surveyed May, 1868 (Fremont)
Graphite on paper
(23 4/8 x 35 4/8 inches; framed)
BOARDMAN, William F. (1865-1945), County Surveyor. Map of the Town of Mission San Jose (Fremont). Surveyed May, 1868
Fine detailed manuscript map, graphite on paper (23 4/8 x 35 4/8 inches; float-mounted and framed), of the Town of Mission in San Jose, Ord 1079.
Provenance: with the stamp of Clifford Boardman, civil engineer and son of William F.; by descent through the Sanders family, owners of American Title and Trust; Schein and Schein, 2013
THE FIRST DETAILED MAP OF THE TOWN OF MISSION SAN JOSE IN FREMONT CALIFORNIA, ONLY PRECEDED BY DISENO LAND GRANT SKETCH MAPS FROM THE 1820s - 1840S. Showing all property owners, all houses, barns and outbuildings, riparian information including wells and streams, adobe walls and storage magazines, established streets and paths, orchards and vineyards and the iron spike in the middle of the Vallejo st. showing the start point for surveying. Subsequently published in the "Official and Historical Atlas Map of Alameda County, California" by Thompson & West, Oakland, California, 1878, page 124.
Drafted during a period of great development due to the silver wealth coming from Nevada, the pressure was on for county surveyors to document the existing towns and land holdings as these communities grew. Being a mission town, this community was important in the trade of goods like tallow, hides, water and land. It would have merited an early survey to reinforce earlier Disen'o maps of the land grant period 1825-1848.
The only mission on the east side of San Francisco Bay, Mission San Jose was founded on June 11, 1797 by Father Fermin Francisco de Lasuen on a site which was part of a natural highway by way of the Livermore Valley to the San Joaquin Valley. It is the fourteenth of the 21 Spanish Missions in Alta California, founded to secure Spain's claim to the area and to teach the native people Christianity and the Spanish way of life. 
The map bears the stamp of Clifford Boardman, civil engineer and son of the map's maker, as this map comes from the Sanders map collection, where by the maps of William F. Boardman were used by Clifford Boardman in his service as a civil engineer, working primarily for American Title and Trust in the Oakland Tribune building, verifying survey, title and trust data from about 1903 until the mid 1950's.
This collection was then passed down to the Sanders family, owners of American Title and Trust during this 1950's transition and owned by them for two further generations until the collection of 68 maps was purchased by Schein and Schein in 2013 from Sandy Sanders.
As stated in the September 15, 1974 edition of the Oakland Tribune at page 62: "William F. Boardman, was a Connecticut-born hardware salesman who educated himself as a civil engineer and became simultaneously Oakland city engineer and Alameda County surveyor. Boardman came to California in 1851 and by 1859 moved to Oakland where he lived until his death in 1906 at age 82. He held both the city engineer and county surveyor posts from 1864 to 1868 and worked for the city and county as surveyor and engineer until the 1890's. He assisted in the development of many public utilities and services in the area, including Contra Costa County Water Co.'s Lake Temescal Dam, San Leandro Dam and Central Pacific Railroad's main line from the Sierra Summit to Truckee.
Boardman was responsible for platting (Oakland's) Broadway 100 feet wide, did the grading plan for the City of Oakland in 1868 and even has a mountain named after him in the Diablo range east of Oakland. His work was used to create the official county maps for Alameda from 1880-1903 and walls maps of the area from this period bear his name.
His son, Clifford H. Boardman, so respected his father that he left high school to learn civil engineering under his father's tutelage. Clifford lived until his death at age 91 in 1956, and worked as a highly respected civil engineer right up to his demise of an apparent heart attack while searching out information in the city engineer's office in Oakland City Hall.