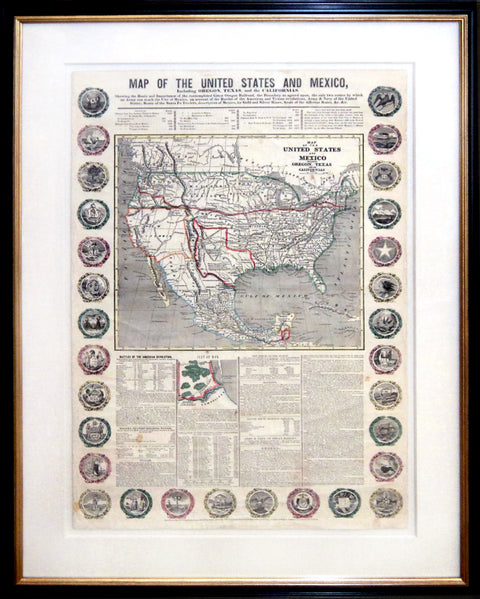 Emmerson. Map of the United States and Mexico...1846
Inquiry
Pickup currently unavailable
Haven & Emmerson
Map of the United States and Mexico, Including Oregon, Texas, and the Californias...
New York: 1846.
Engraved map with hand-coloring
Sheet Size: 30" x 20.5"; Framed Diemnsions: 40" x 29.5"
$12,000
Map of the United States and Mexico, Including Oregon, Texas, and the Californias. Showing the Route and Importance of the contemplated Great Oregon Railroad, the Boundary as agreed upon, the only two routes by which an Army can reach the City of Mexico, ... Route of the Santa Fe Traders [etc]. New York: Haven and Emerson, 1846. Engraved map, hand-colored in outline, 770 x 510 mm. The map set within four columns of text and bordered by thirty state seals. Slight toning, some wrinkling and light spotting. Framed.

John Haven had a reputation for publishing maps which asserted contentious boundary lines during the era of rapid westward expansion, and this map is no exception. It depicts Oregon's boundary as above the 54th parallel (marked "Boundary claimed by United States") as well as one near the 48th parallel ("Boundary offered as Compromise by U.S."). The map also depicts disputed boundary lines between Texas and Mexico in the same year the Mexican-American War began.

John Haven's bombastic Mexican-American War maps and broadsides were frequently recycled. As the map of early Texas battles implies, this production shows the stirrings of Manifest Destiny as it relates to the Northwest Territory, here shown connected to the East Coast by the proposed new railway and the emigrant route to Fort Walla Walla in Oregon. British pretensions to the Canadian boundary are also refuted by the clearly-drawn borderline that rejects that country's claims to lands farther south. That the elaborate description of Oregon takes up a great part of the text makes clear the territorial pretensions of this map, which obviously seeks to consolidate the claims of both Texas and Lewis and Clark.