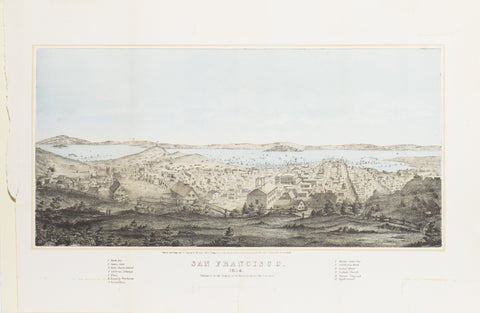 Panoramic View of San Francisco (1856)
Inquiry
Pickup currently unavailable
Henry Bill 
Panoramic View of San Francisco (1856)
From: History of the World
New York: 1856
Hand-colored engraving
Sheet Dimension: 18 x 12.5"
 This lovely Panoramic View of San Francisco looks out from the West towards Yerba Buena Island. San Francisco is seen from Nob Hill and looks down at California street, with Telegraph Hill to the left. A legend is featured which marks out the North Bay, Contra Costa, Yerba Buena Island, Ricon Point, Market Street Pier, and the Central Warf, among other sites. The view was entered according to the Act of Congress, District of Connecticut in 1852, which is noted in the lower margins. Printed in several editions by Henry Bill for inclusion the publication the History of the World. However this particular view printed in 1852 is quite special since it was printed just a few years after the height of the California gold rush and just two years after California became an official state.
Henry Bill (fl . c. 1850- c. 1857) was a Connecticut based publisher and historian active in the middle part of the 19th century. He published a number of histories including Samuel Maunder's well-regarded two volume History of the World.