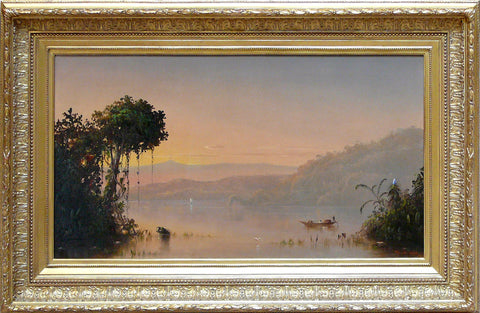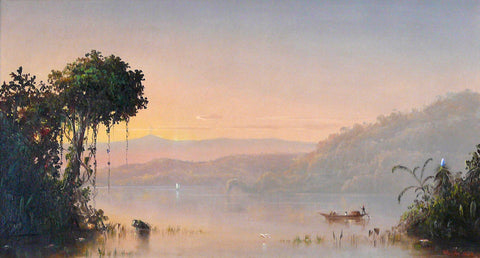 Scene on the Upper Guayaquil River
Inquiry
Pickup currently unavailable
A Tranquil Tropical Scene by Norton Bush
Norton Bush (1834-1894)
Scene on the Upper Guayaquil River
Signed, dated 1880 at lower right; Inscribed with title on stretcher
Oil on canvas
Size: 20" x 36," 30" x 46" framed
Provenance: Private Collection, San Francisco, CA
$80,000.
Born in Rochester, New York, in 1834, Norton Bush first studied art in his native town as the pupil of James Harris, an established landscape painter. In 1850, Bush moved to New York and studied with the Hudson River School painter Jasper Cropsey (1823-1900). At the suggestion of the artist Frederic Church (1826-1900), Bush decided to travel to look for inspiration for his paintings.
In 1853, Bush left New York for San Francisco by boat, crossing America through Nicaragua on the old "Vanderbuilt" route used by many Gold Rush prospectors and pioneers, as the transcontinental railroad would not be complete until 1869. Bush settled in San Francisco and became part of the growing art community in the city in the 1860s.
After a sketching tour to Central America in 1868, Bush increasingly turned to tropical subjects, which were very popular in San Francisco. A majority of San Francisco residents before 1869 had experienced a taste of the tropics in their pioneer journey to California, and Bush's transcriptions of the lush beauty of the region evoked nostalgic memories. Additionally, many Hudson River school painters, such as Frederic Church, had started to travel and paint scenes from South America and other tropical areas.
Norton Bush became the most popular, and best known nationally, of the artists who settled in California and specialized in landscapes of the tropics. Bush's favorite subject was the tropical lagoon framed by palm trees. He was a master at capturing the soft harmonies of sunset in the tropics and their reflections in still water. Describing Bush's tropical scenes, a San Francisco Evening Post art critic wrote:
Not only is the vegetation splendidly tinted, but the atmosphere is warm, soft and golden, and the water as perfectly represented as can be imagined...
Mr. Bush occupies a leading position as an American artist and the newspapers of New York and other Eastern cities have often referred to his paintings in terms of a warm eulogy. (October 27, 1874)
In 1875 Bush traveled to South America on a commission from Henry Meiggs, a mining and railroad entrepreneur whom had moved there from San Francisco. Bush visited Peru, Chile and Ecuador, taking studies for works like this tranquil scene that depicts the Guayaquil River in Ecuador.
In 1878 Bush became director of the San Francisco Art Association, and in the following years won four gold medals at California State Fair exhibitions for his paintings of the tropics. In later years, Bush took to painting marine scenes, which lacked the popularity of his tropical views. In 1893, Bush was put in charge of the California section of the Columbian Exposition in Chicago. The strenuous efforts of this were too much for his health, and he died in Oakland in April, 1894.
Works by Norton Bush can be found in the collections of the Fine Arts Museums of San Francisco, The Metropolitan Museum of Art and the Oakland Museum of California.