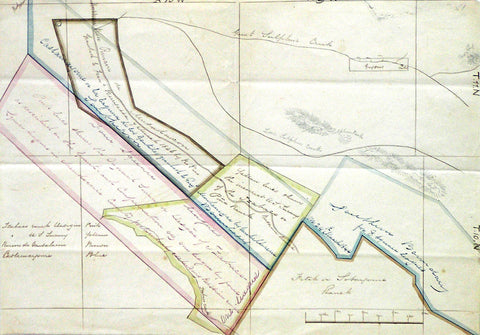 Survey Of Healdsburg, Sonoma County, California
Inquiry
Pickup currently unavailable
Original Manuscript map. 1846. 13" x 17"
This extraordinary survey gives us a glimpse of the development of Sonoma County in the mid 19th
century. At this time, what would become the town of Healdsburg was a loose grouping of various ranches.
According to Healdsburg historical records, what is shown as "Fitch Ranch" in the lower right hand corner
of the survey, is the site of current Bailhache Ave. Bailhache Avenue is just southeast of downtown
Healdsburg. Additionally, what is now known as "Fitch Mountain" are the hills drawn just north of "Little
Sulphur Creek" on this survey. "Little Sulpher Creek" is now known as the Russian River.
When California came under Mexican rule in 1821, land grants were made to the early settlers in the state,
who were known as Californios, in an effort to populate California. Also, the Mexican governor, realizing
that political changes were imminent as the United States was moving towards war with Mexico, hastily
granted titles of land in Marin County to friends, military figures, and settlers, most of them from Great
Britain, between 1834 and 1846. These grants were huge, and many would be worth billions of dollars today.
When the United States took possession of California and other Mexican lands in 1848, it was bound by
the Treaty of Guadalupe Hidalgo to honor the legitimate land claims of Mexican citizens residing in those
captured territories. By the end of the 19th century these land grants had been passed down and distributed
among the families of the original Californios, and most of the land eventually sold outside the family. Many
of the original grantees lost all of their property to the lawyers whom carried their cases to the U.S. Court
and accepted land in lieu of fees. These original land grants shaped many of the existing settlement patterns
and boundaries in Northern California today.