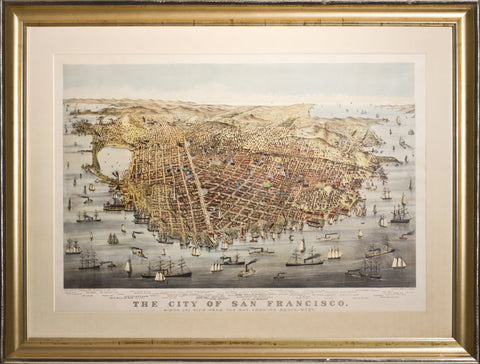 Currier & Ives. The City of San Francisco. 1878
Inquiry
Pickup currently unavailable
Currier & Ives (1834 - 1907)
The City of San Francisco (Birdseye View From the Bay Looking Southwest)
New York: 1878
Hand-colored lithograph
Sheet Dimension: 24 x 34.5"
Frame Dimension: 34.25 x 44.5"
Currier & Ives was a successful American printmaking firm headed by Nathaniel Currier and James Merritt Ives. Based in New York City from 1834 - 1907 the firm called itself "The Grand Central Depot for Cheap and Popular Prints". The firm created prints from black and white lithographs, a process that could be quickly reproduced and purchased inexpensively, and then hand colored them in. Producing colored engravings for the people. 
This iconic lithograph depicts San Francisco in its flourishing years, becoming the tenth largest city in the United States in 1870. Construction of hotels, schools, parks, churches, synagogues and libraries was constant. Currier & Ives capitalized on the civic pride and growth of the city by publishing the bird's eye view of the booming city.