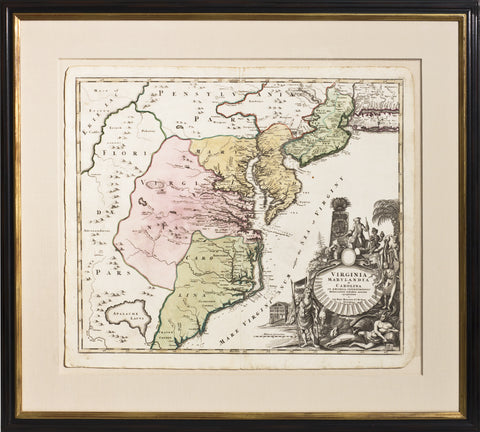 Virginia, Maryland & Carolina
Inquiry
Pickup currently unavailable
Johann Baptist Homann (1664 - 1724)
Virginia Marylandia et Carolina in America Septentrionali Britannorum industria excultae
Nuremberg, Germany, 1714–1730
Hand-colored engraving 
Copperplate engraving, hand-colored
Sheet Dimensions: 20.25 x 24.25 in.
Framed Dimensions: 31.75 x 34.75 in. 
Johann Baptist Homann's hand-colored engraved map Virginia Marylandia et Carolina… was first published in a 1714 atlas, and was re-published numerous times thereafter. The map depicts Homann's interpretation of the American colonies as they existed in the early part of the 18th century. The geographical range extends south from Pennsylvania, New York, and New Jersey to South Carolina; and west to Lake Erie and the Appalachian mountains. Important cities and towns are marked in red: Philadelphia, in Pennsylvania; what is simply called "Carolina," on the Cape Fear River in Carolina; and "Germantown/Teutsche Statt," in Virginia. Florida, which belonged to Spain at the time, spans the western edge of the map.