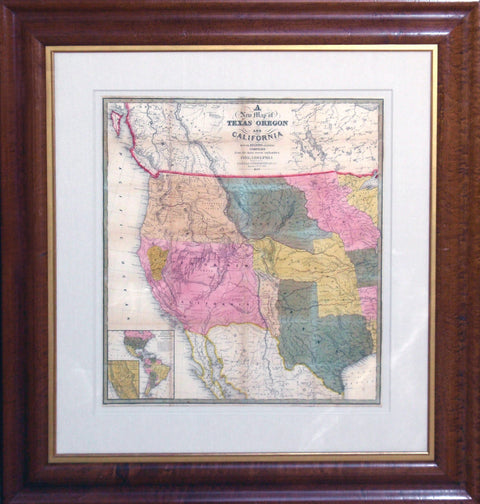 A New Map of Texas, Oregon and California
Inquiry
Pickup currently unavailable
Samuel Augustus Mitchell (1792-1868)
A New Map of Texas, Oregon and California
Published by Thomas Copperthwait Philadelphia, 1846 (1849)
Paper size: 21 1⁄4 " x 19 1⁄2 " Frame: 35" x 33 1⁄2 "
$19,000
Samuel Augustus Mitchell, born in Bristol, Connecticut on March 20, 1792, got into publishing after he was disappointed by the inaccurate and outdated school atlases he taught with as a school teacher. Hoping to rectify this, he moved to Philadelphia, the publishing capital of the US. In the early days, Mitchell published mostly maps and travel guides. In 1846, he bought the copyright to Henry Schenk Tanner's New Universal Atlas, publishing it until 1859 when it was replaced by Mitchell's New General Atlas. This work revised many of Tanner's original works as well as some by Anthony Finley. Not a cartographer or engraver himself, he relied heavily on the help of cartographers J.H. Young, D. Haines, and D.H. Vance (the former who would remain with the firm for a number of years and created many of the best known works).
The company also published the School Atlas (1839-1886) fulfilling Mitchell's original goal to improve school materials, and the Ancient Atlas, Classical and Sacred (1844-1874). Mitchell was rivaled only by Colton and Company in New York for excellence in American map making in the latter half of the 19th century. Ahead of its time, the Mitchell company was one of the first to use steel plates for engraving, more than 20 years before the rest of the publishing world would make the switch.
The political timing for such maps was also priceless in aiding in the success of the Mitchell company. With the Oregon Trail is full swing (1841), the US on the brink of war with Mexico (1846-1848), Brigham Young leading his group of followers to Utah (1846) and gold recently being found in newly acquired California (1849), the country had a great sense of Manifest Destiny and desire to create a bicoastal country. Travel books were flying off the shelves and into homes, businesses and schools. Mitchell's maps included many expedition routes including the caravan route to Santa Fe, the Oregon Trail, Lewis and Clark's trail, and Fremont's expedition; it also included a table noting the "reputed distances of the chief points of interest" along the routes, tantalizing readers with the dreams of going west.
In 1850 the publishing rights were sold to Thomas Copperthwait. After changing hands again and again, in 1860, the maps were finally once more property of the Mitchell family; this time Samuel Augustus Mitchell, Jr. took the helm of the company and began issuing new print copies of The New General Atlas until 1887. Various publishing companies kept the work in print until 1894.
This 1849 edition of Texas, Oregon and California shows the region west of the Mississippi to the Pacific Ocean, from the Rio Grande to southern Canada. Also included is a booklet with "Accompaniment" text that describes California and Oregon in 76 pages (including appendix). Highlights include wildlife reports of residents in Oregon and soldiers' letters describing the on- going gold rush in California.