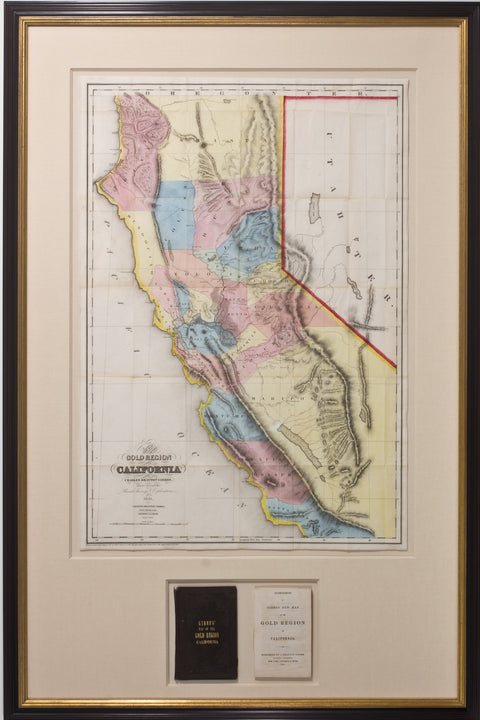 Gibbes. A New Map of the California Gold Region. 1851
Inquiry
Pickup currently unavailable
Charles Drayton Gibbes
A New Map of the Gold Region in California
Stockton: 1851
Original hand-color lithograph
Sheet: 29" x 19 ¼", Framed: 29 1/2" x 44"
GIBBES, Charles Drayton. A New Map of the Gold Region in California. Stockton, California: J. Drayton Gibbes and New York: Sherman & Smith, 1851.

Single sheet, (29 x 19 ¼ inches). 16 pages of text. Fine folding lithographed map with original hand color in full (very slight toning at folds). Original publisher's embossed brown cloth gilt, preserved in a modern quarter black morocco slipcase, marbled boards.

Provenance: From the important cartographical library of Warren Heckrotte, his sale, Rare Cartography, Exploration and Voyages, Part II, December 3, 2015, Lot 152.

FIRST MAP OF CALIFORNIA TO SHOW COUNTY BOUNDARIES (Streeter)

First edition. Striking, very brightly colored map of much of California. As Wheat states, "This interesting map shows Santa Cruz County as 'Branciforte' and contains numerous place names in the mining region. 'Toualomne' City, Crescent City, and Empire City all appear along the Tuolumne River below 'Jackson's.' 'Downingville' and 'Goodhue's Bar' are shown on the Yuba, on either side of Rich Bar. The map extends only Santa Barbara on the south." The text with the title "Accompaniment to Gibbes' New Map of the Gold Region of California," with the preface to the text providing a list of authorities used to construct the map. Describing the "Accompaniment," Kurutz remarks that "Charles Gibbes came to California from Charleston, South Carolina, during the Gold Rush. In this supplement to his map, he included a description of California, its history, climate, soil, crops, bays, harbors, and rivers. He also provided pertinent information on the mines and advise for equipment. Putting the best face on the situation, he wrote: `Towns have sprung up at all the principal mining centres, and trading establishments in them furnish all needed supplies of provisions, clothing, tools, and other necessities, at reasonable rates.' Gibbes estimated that $100 million in gold had already been mined." Warren Heckrotte notes that "Streeter states that this is first map to show county boundaries. Jackson's 1851 map also shows county boundaries."

"This map...because of its large scale [about 20 miles to the inch] and clear markings in colors of the different counties, is one of the most satisfactory of the early California maps. It shows the state before Klamath County in the north, and Nevada and Placer counties in the center, had been set apart and thus gives an earlier representation than the Butler map published the same year which shows those new counties...An important feature of Gibbes' map is that it is one of the first, if not the first, map of California to show county boundaries" (Streeter). Wheat Gold Region 192. Streeter sale 2663.